"Sometimes true musical talent just cannot be denied, even when it's found in the sleepy fishing town of Brookings, Oregon," says Grammy award winning artist Gretchen Wilson about Jessie G, the first outside artist signed to Wilson's Redneck Records.
Jessie's heritage spans across four generations of commercial fishermen, and she spent much of her childhood aboard the hand-built family boat; searching for Dungeness crab and albacore tuna, and then selling their catch at the market and in their family restaurant. Hard work runs in her blood.
"From an early stage, I was able to support my dream of pursuing music with the money I earned working as a baiter on our fishing boat or selling our fresh catch at the Farmer's Market," Jessie remembers. "But I always knew that music was the end-game. It has always been my number one passion."
It's doubtful, however, that Jessie knew that entering a Battle of the Bands contest, through which she won an opening slot on Gretchen's Portland tour date, would literally change her entire trajectory. Upon hearing her sing, Gretchen invited her onto her tour bus and urged Jessie to begin the journey that every young country singer-songwriter must embark upon — she moved to Nashville.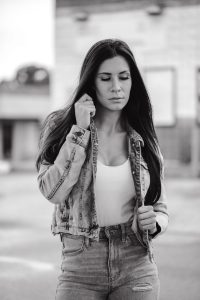 Jessie immersed herself fully into writing, teaming with some of Nashville's best, and spent countless hours in the studio working on her sound. Discovering the true art of songwriting under the watchful eye of Gretchen and her multi-talented friends and collaborators, Jessie realized the true depth of what she wanted to say.
"These new songs have helped me find my voice and who I am, both in the writing room and in the studio. This has been one of the biggest growing experiences both personally and in my career." Jessie says.
With Jessie G signed as a Redneck Records artist, Gretchen Wilson now serves as co-writer, collaborator, producer, label head, tour mate and friend.
The release of Jessie's self-titled EP comes on the heels of her highly successful debut single, "Army Ranger," which has made a loud statement on radio worldwide and with the heartfelt music video, which debuted on national networks like CMT, GAC, The Country Network and more, and has amassed well over a million video views online. The song's success has built Jessie a devoted audience among the military community and beyond.
This EP release will preface a full album release, coming in the Fall.
"The fishing industry is closely related to the music industry," Jessie says. "Working on a fishing boat toughens you up. And the harder you work, the more likely you'll create a big payoff."